Sharing the talents and creativity Of Local artists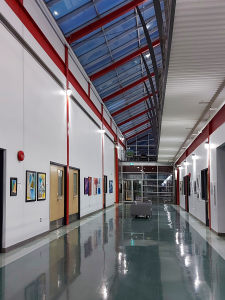 At Art at Seven Innovation, a project of Artefact Social and the Hamilton Technology Centre, we provide a platform for local-area artists to showcase their work within our community and to its far-reaching personal and business connections. Our aim is to create a positive impact within the vibrant arts community of the greater Hamilton region through our rotating exhibition space.
Art plays a vital role on a personal, professional, and societal level. Aside from aesthetical reasons, there is increasing evidence in neuroscience that art helps to stimulate the imagination by enhancing brain function. Making art, and even simply looking at art, raises serotonin levels which, in turn, increases confidence and self-esteem while improving mood and decreasing anxiety. Observing art can stimulate the creation of new neural pathways and ways of thinking leading to innovation. Advanced processes of the brain are accessed through art including intuitive analysis, expressivity, and embodied cognition.
All in all, art is good for each and every one of us — whether we make it or observe it.
Our Exhibitions
Our exhibitions run three times a year, lasting four months each. We showcase the work of local-area artists in the beautiful atrium of the Hamilton Technology Centre.
For Artists
Have your work showcased in the next exhibition. Three times a year we accept artwork submissions from artists for the jurying process.
Artefact Social is an event planning business that understands the importance of blending business with pleasure. Their team will work tirelessly to make sure your event is one for the books!
Services include:
Professional meetings
Staff
Events
Team building
Lunch and learn
Product launces
Special functions
About The Hamilton Technology Centre
The Hamilton Technology Centre (HTC) is a ​private, active innovation hub located at the nexus of Canada's Innovation Corridor. It opened its doors in 1993 and is host to a range of successful, accelerating businesses which connect to other communities and resources in the region and beyond.
Through the Hamilton Technology Centre and Artefact Social, the atrium at 7 Innovation Drive is host to a range of social and business events – from team-building activities, lunch-and-learn sessions, and new product launches to special functions attracting local, regional, national, and international visitors.
The HTC's focus on fostering innovative business communities offers artists the chance to collaborate and build relationships with potential clients and collaborators through its Art at Seven Innovation program. By displaying artwork at the HTC, artists can leverage the area's potential for huge economic growth as it attracts both domestic and international visitors.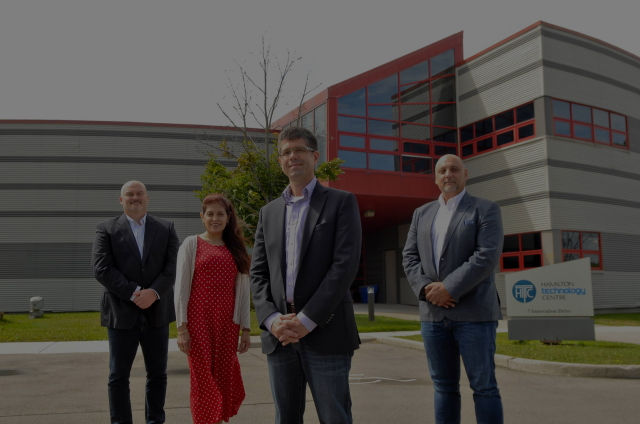 HTC – 7 Innovation Drive, Dundas, ON
Our mission is to provide both emerging and established artists of the Greater Hamilton Area with a venue to share their work with the community, their peers, local businesses, and the many visitors to the area.
Art fosters civic engagement, encourages discussion and thought, which gives birth to new perspectives. Bringing people together and making connections through art encourages new ideas and drives dynamic innovation in all areas of our lives as we explore new directions.
Through rotating exhibitions and associated events we aim to bring together local creatives and our vibrant community of residents and businesses to share, inspire, and grow.
A message from our leader
Art and innovation – two vital activities of life dating back to our very beginnings. Without the two, we would not be where we are today. Through art and innovation our society unites, shares, and motivates. Both encourage creativity, expression, and risk-taking.
Art is a record of where we have been and opens up the mind to where we can go. It is an intimate connection with the experiences of others and their unique perspectives built on their own reflections.
Innovation is nourished by observation, critical thinking, creative thinking. The ties made between making or looking at art and what it does for our neural pathways further explain why art and innovation have long been a formidable pairing spurring empowerment and strategic future-building. Our shared experiences help build vibrant communities. Art and innovation help build vibrant communities.
I am happy to open up Hamilton Technology Centre to this exciting new project, Art at Seven Innovation, and look forward to sharing the inspiring talents of our local artists.
Art opens eyes and minds.